The Tree of Matchsticks COVER and BLURB REVEAL is here!
Here it is! ⛏♟ I'm so excited to reveal the cover and blurb for Tree 𝘰𝘧 𝘔𝘢𝘵𝘤𝘩𝘴𝘵𝘪𝘤𝘬𝘴, Part 3 of the House of Matchsticks series! ToM is the finale of the first cycle of House of Matchsticks books (with more books to come in the series!). Read on to return to Benemourne …
The House of Matchsticks is calling ...
Memories of his forbidden trek were stolen straight from his head. He'll never be the same if he gets them back…
Jack Fael can't shake an uneasy feeling something's off. Already riddled with doubt over coming out of retirement just to work with his rival, the treasure hunter feels no closer to uncovering what happened the night his career ended. So he's thrilled when he begins to have the visions he's been looking for deep in the mines, offering a crucial shot at untangling his muddled memories.
Impatient for answers, Jack is forced to grit his teeth and play nice while an unfamiliar crew embarks on his quest. But between the shaky identity of one of his team, battling confused feelings regarding his rival, and deadly terrain inside the mines, it'll be hard enough surviving their treacherous underground expedition.
Can he reclaim his fractured history, or will he be lost to the darkness forever?
Tree of Matchsticks is the endlessly satisfying third book in the House of Matchsticks YA fantasy series. If you like powerfully realized characters, twisting suspense, and emotionally moving moments, then you'll love Elisa Downing's spring-loaded tinderbox.
Buy Tree of Matchsticks to step out of the shadows today!
House of Matchsticks is a third person, multi-POV series with found family, enemies to lovers slow-burn romance (straight and LGBTQ+), and a healthy dose of action/adventure. This is Part 3 in the series.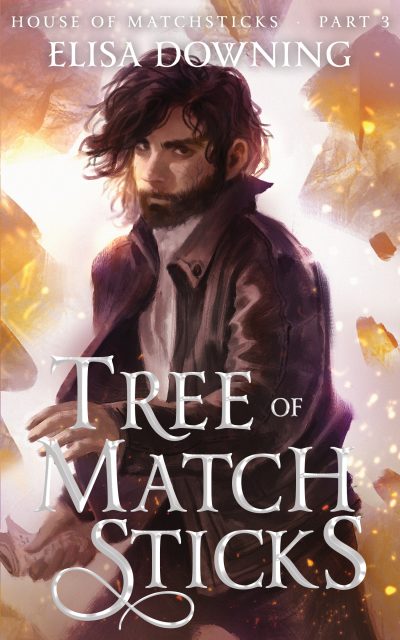 Available everywhere ebooks are sold November 30th, 2021!