Behind the Scenes of the House of Matchsticks Series, #1
To celebrate the publication of Night of Matchsticks, here's some behind the scenes of the House of Matchsticks series! 📜🖤
This will be the first instalment of what I hope will be lots of posts about my writing, story development, and editing processes. Enjoy!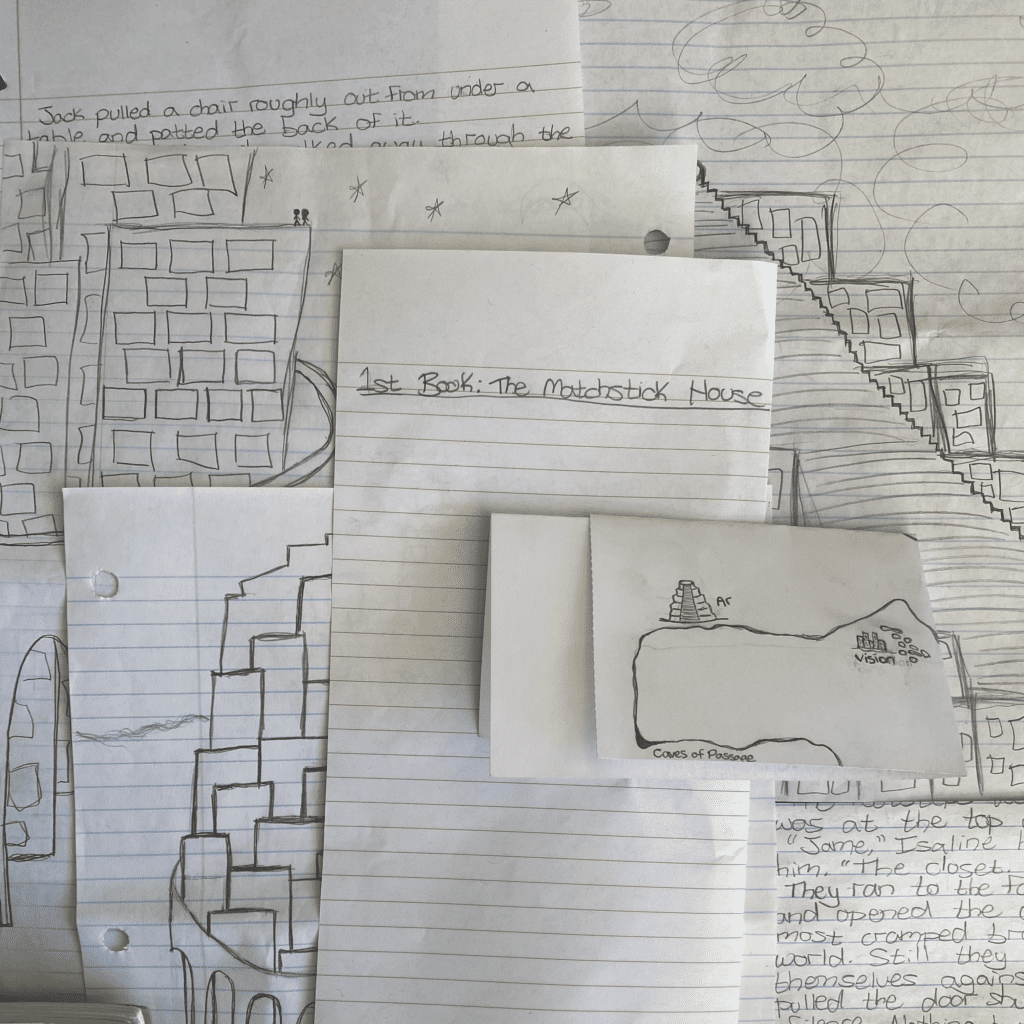 This is a little collage of story/world development from 2011. Yes … ten years ago. 😅 I had the idea for HoM in 2009 and worked on the story intermittently until 2011. After that, I shelved the idea while I was studying at university and doing a lot of academic writing (but some part of me always knew I would return to creative writing when I was ready). In 2019 I picked HoM back up and started working on the books you can read today!
🪑 Top left: A moment from 𝘕𝘪𝘨𝘩𝘵 𝘰𝘧 𝘔𝘢𝘵𝘤𝘩𝘴𝘵𝘪𝘤𝘬𝘴 that has remained largely the same from a decade ago. Except Jack has become a little less grumpy. A little. 😎
🗺 Center: The working title for the first part of the HoM series was "The Matchstick House". I changed it to the more YA-sounding 𝘏𝘰𝘶𝘴𝘦 𝘰𝘧 𝘔𝘢𝘵𝘤𝘩𝘴𝘵𝘪𝘤𝘬𝘴 during drafting. Below that, you can see part of a map of Benemourne my teenage self drew (the rumors are true … my drawing has not improved lol). It includes Ar, Vision (which later became Sunrest), and the Caves of Passage (later, the Shute).
🗝 Bottom right: A 2011 excerpt from a semi-deleted scene in 𝘕𝘪𝘨𝘩𝘵 𝘰𝘧 𝘔𝘢𝘵𝘤𝘩𝘴𝘵𝘪𝘤𝘬𝘴 where Jame takes Isaline thieving. Parts of it may or may not show up later in NoM 😉
🌃 Scattered: My teenage self's sketches of Ar, the mountain city you'll encounter in 𝘕𝘪𝘨𝘩𝘵 𝘰𝘧 𝘔𝘢𝘵𝘤𝘩𝘴𝘵𝘪𝘤𝘬𝘴 and throughout the whole series. If you zoom in, you can see teeny tiny stick figures of Isaline and Jame standing atop a building (this was before Isaline's debilitating fear of heights). Scene ideas from these exercises roughly translated into Isaline and Nalissa's rooftop hangouts in HoM.
It's been a long journey, but it's so good to be finally here.