It's time for the Night of Matchsticks COVER and BLURB REVEAL!
It's here! ✨🌌 I'm so excited to reveal the cover and blurb for 𝘕𝘪𝘨𝘩𝘵 𝘰𝘧 𝘔𝘢𝘵𝘤𝘩𝘴𝘵𝘪𝘤𝘬𝘴, Part 2 of the House of Matchsticks series!
Welcome back to Benemourne ...
He was supposed to collect the dead. Instead, he rescued a single soul. Now watching her adventure, he's faced with making the ultimate sacrifice.
The Collector can't tell how to fix what he's undone. Ever since impulsively saving the baby in the rowboat, the walking bringer of death has spent his days searching for the key to rolling back his misstep. But the greater his fascination with human mortality and the allure of taking just one life-giving breath grows, the more he fears intervening would cost him eternity.
With the person he saved long ago and a party of treasure hunters prepping for a dive into the mines in search of lost history, tensions run high as the Collector confronts the collision of past and present. And terrified of his own confused longings, the otherworldly being must make a choice between normality… and sacrificing his status to set things right.
Will the Collector embrace a destiny that can only end in his demise?
Night of Matchsticks is the momentous second book in the House of Matchsticks YA fantasy series. If you like bands of diverse characters, gritty dieselpunk action, and edge-of-your-seat surprises, then you'll love Elisa Downing's enthralling world.
Buy Night of Matchsticks to shine a light on the truth today!
House of Matchsticks is a third person, multi-POV series with found family, enemies to lovers slow-burn romance (straight and LGBTQ+), and a healthy dose of action/adventure. This is Part 2 in the series. Expect a cliffhanger.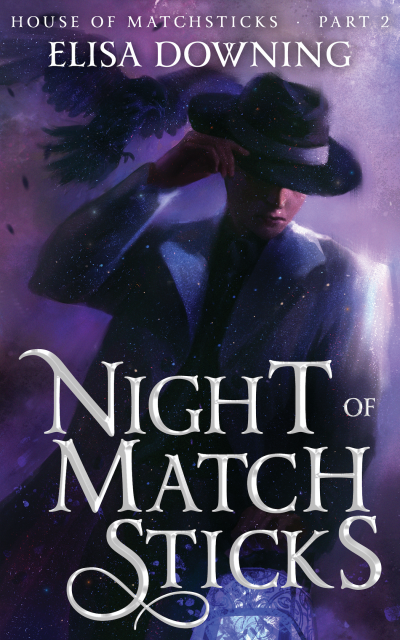 Available everywhere ebooks are sold October 30th, 2021!